"De 
mailing die Nederland schokte.
"
"Benetton
-effect op polderniveau
."
"C
haritatieve afrekening.
" –columnist Jan Blokker (Volkskrant)
Het concept
Ons werd gevraagd geld in te zamelen voor het zoveelste 'Afrikaanse' probleem. in plaats van de reguliere bedelbrief met acceptgiro eronder bedachten wij een multimediaal concept dat het ver-van-mijn-bed-probleem naar onze eigen omgeving haalde. Zeggen dat dat de ontvanger zich er wat ongemakkelijk bij voelde, is een understatement.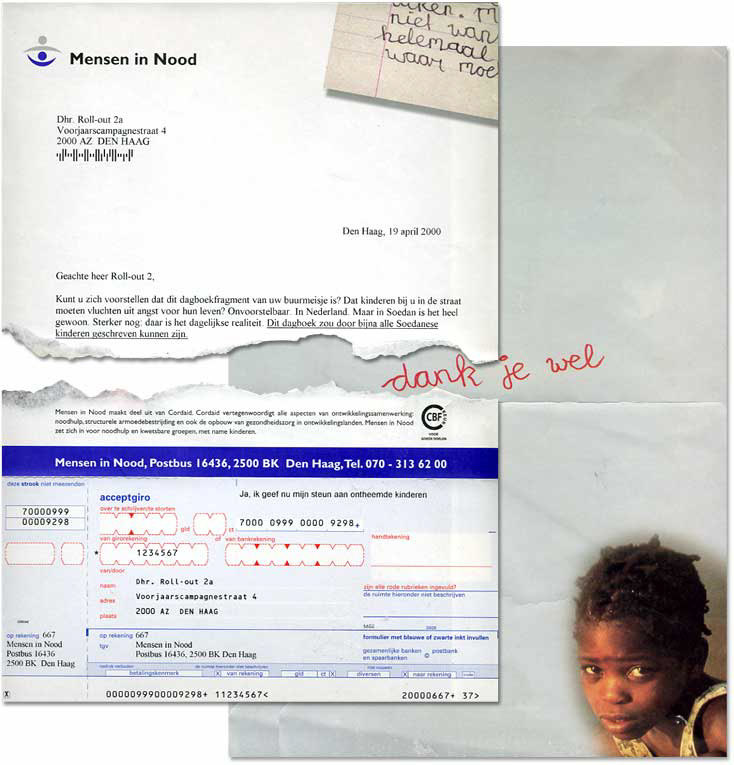 ​​​​​​​"The mailing that shocked Holland."
"Benetton effect on polder level."
"Charitable settlement." –columnist Jan Blokker (Volkskrant)​​​​​​​

We were asked to raise funds for yet another 'African' problem. Instead of simply writing the regular begging letter with a folder as was the custom, we came up with a multi media concept that moved the 'far from my bed' problem into our own habitat. To say that was inconvenient is an understatement.
Free publicity!
Omdat sommigen geschokt dachten dat er een kind in acute nood was, buitelde de media over elkaar heen om deze schokkende campagne onder de aandacht te brengen. Zo was onze klant in de gelegenheid om voor het oog van de natie een enorm statement te maken: is het opeens niet zo erg meer alleen omdat het aan de andere kant van de wereld gebeurt?...
- Voorpagina De Volkskrant, inclusief afbeelding:
  "We krijgen wel vaker bedelbrieven. De meeste gooien we ongelezen weg."
- NRC Handelsblad:
  "Heb de hele dag met twijfels rondgelopen. Misschien was het toch een kind dat mijn hulp nodig had."
- Het Parool-column door Jan Blokker:
  "Charitatieve afrekening".
- Diverse TV-nieuwsprogramma's.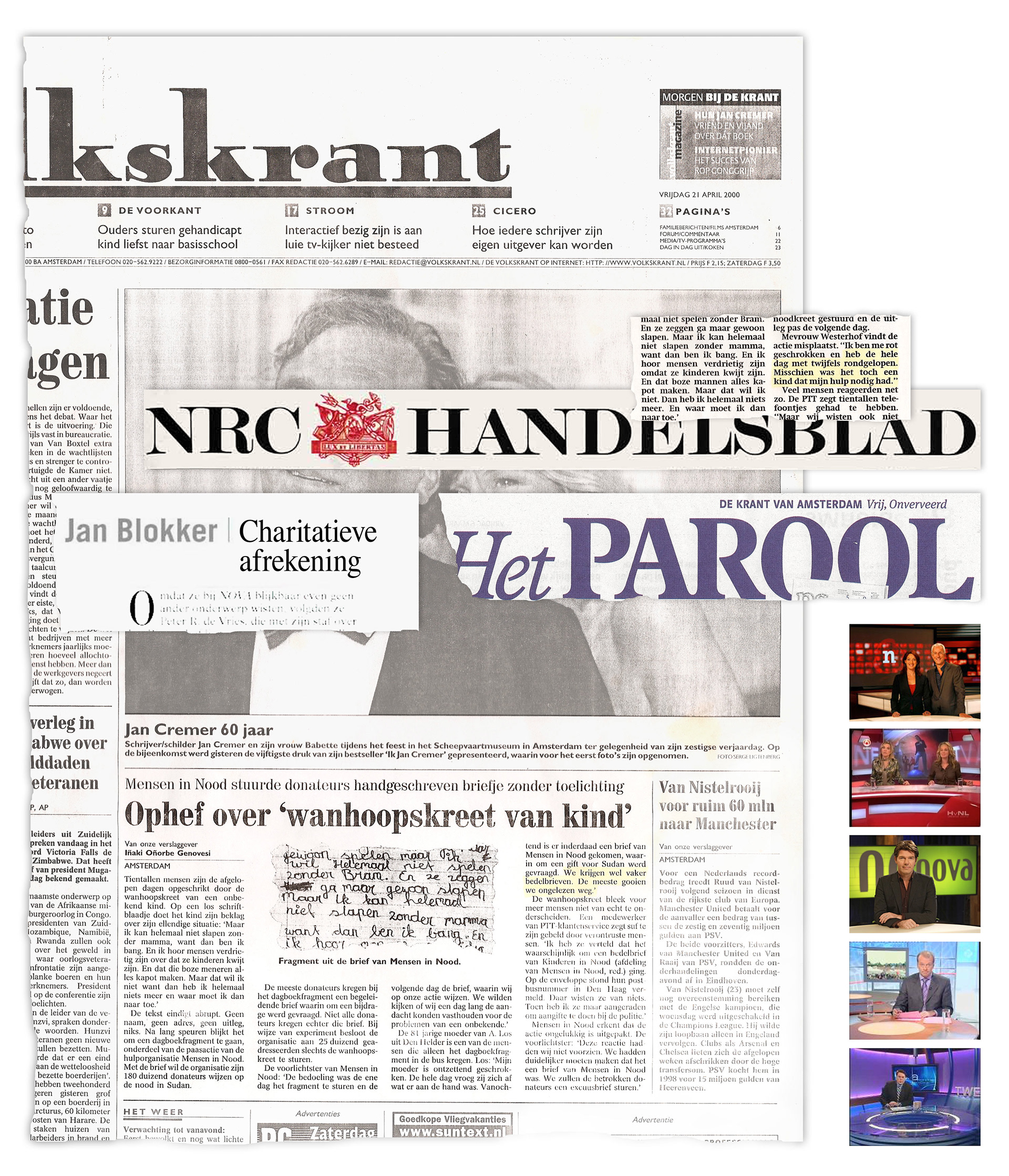 People got shocked thinking there was a child in desperate need, the news media fell over it and our client was able to make a huge statement in front of the whole country: Is it suddenly not so bad anymore just because it happens on the other side of the world?...
​​​​​​​​​​​​​​
- Front page of De Volkskrant including image:
  "We get begging letters on a regular base. Most of them we throw away unread."
  "I've been walked around with doubts all day. Maybe there wás a child who needed my help."
- Het Parool column by Jan Blokker:
- Various national TV news programms.
Stoppertjes
Krantenadvertenties ('stoppertjes') in allerlei formaten werden gratis geplaatst.
Newspaper ads in all formats were placed for free because of it's charitative character: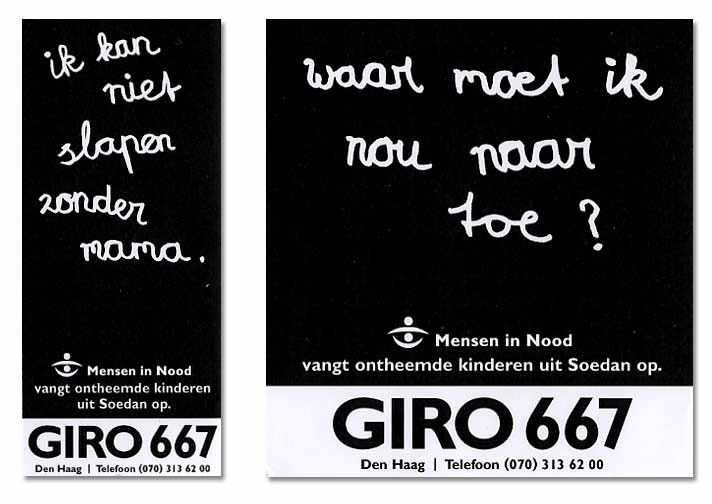 TV- en radiocommercial

En de cirkel was rond met een low-budget TV-commercial  – met dankbaar gebruik van TV-presentator Robert ten Brinks vertrouwen wekkende stem en een fantastisch jong acteertalent –  gebaseerd op het zelfde concept.
And the circle was round by a low-budget TV commercial  – with the grateful usage of TV presentator Robert ten Brink's reliable voice-over and a fantastic young acting talent –  based on the same concept:
Goed voorbeeld doet goed volgen...
Geen wonder dat het al gauw door andere goede doelen geïmiteerd werd.
No wonder it got imitated by fellow organisations soon after.​​​​​​​